Posted by Stoner Bunting on

December 13th, 2017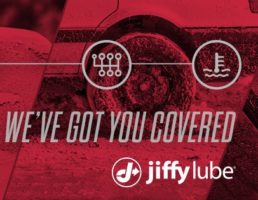 From warm weather retreats to holiday family visits, no matter where your winter travels take you, Jiffy Lube® wants to make sure your vehicle is road ready. Use these winter car travel tips to help reach your destination safely—and with your sanity intact.
Pack like a pro.
Packing the car doesn't have to feel like you're losing a game of Jenga. Whether you're loading gifts to take to Mom's house or gearing up for a week's vacation, reduce road trip headaches by maximizing space with these can-do tips:
• Pack heavier or regularly shaped items, like boxes, first. Load lighter or oddly shaped items, such as strollers or beach umbrellas, on top.
• If you have a rooftop cargo bag or box, use it for bulky items that don't need to be unpacked until you arrive at the destination (i.e. sleeping bags, pillows, etc.).
• Pack must-have items, like toiletry bags and diaper bags, last so they're easy to access.
• Never pack items so high that they block the driver's line of sight through the rear window.
Prep for wintry weather.
Even if you're traveling through populated areas, an emergency kit is a must-have for your vehicle. Wintry weather—and the accidents it can trigger—will stop traffic in its tracks, leaving you stuck on the road or in a traffic tie-up. Don't get caught unprepared; stock a winter car travel emergency kit with:
Essentials
• Blanket
• Flashlight & extra batteries
• Shovel, foldable or compact
• Windshield scraper
• Sand or cat litter, for additional traction if needed
• Emergency signals, like road flares or reflective warning triangles
• Jumper cables
• First aid kit
• Water and nonperishable snacks
Additional Items
• Tire chains
• Extra hats & gloves
• Hand warmer packets
• Head-mounted flashlight (which comes in handy when you're traveling solo)
• Solar-powered phone charger
Winterize your vehicle.
Give it a boost of warm TLC before you hit the road. Preventative maintenance now can save the big-time hassle of getting stuck on the roadside in freezing temperatures with a vehicle packed with kids, pets, and luggage. Before you travel this winter:
• Test battery power level.
• Check, flush, and fill antifreeze.
• Check and, if necessary, change oil.
• Inspect tire tread and inflation.
• Inspect windshield wipers for signs of wear and tear.
• Keep windshield wiper fluid reservoir filled with a mix that offers freeze protection.
Take the stress out of winterizing your car.
Let Jiffy Lube experts de-hassle your travels with preventative maintenance that keeps your vehicle on the road. Our ASE-certified technicians take care of your car, so you can Leave Worry Behind®.
When it's time to buy bulk gift cards for your sales, reward, or fundraising program, offer a national brand that provides value and peace of mind: Jiffy Lube Gift Cards® and Jiffy Lube eGift Cards℠.