Posted by Stoner Bunting Gift Cards on

November 30th, 2016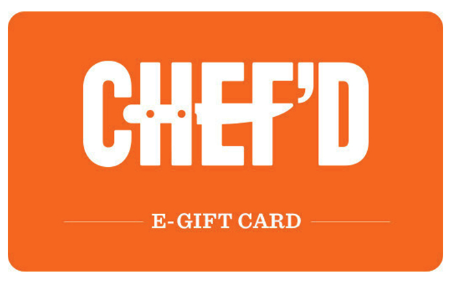 As most of you know, SBGC recently signed with a new brand, Chef'd®. Not only is this a new client for SBGC, but it's a new "type" of brand in the B2B bulk gift card space as well. Now, what most of you don't know, is that I, Erin McCullough, blogger for SBGC and resident "sure, I'll give it a try…" employee, couldn't even make toast without burning it up until a few years ago. The combination of this exciting new partnership and pathetic confession of cooking incompetency sparked an idea from my supervisors: let's have Erin test out a Chef'd Meal Kit and blog about it!
I'm sure you can guess what I said.
My family, on both sides, harbors some amazing cooks. I am of Polish and Irish descent, so I've been raised on an interesting mix of home-cooked meals. In my childhood home we had the world's smallest kitchen where my mom cooked for our family of 6 – our main cooking space held our fridge, dishwasher, and oven, and you could only have one open at a time. This left little space for her to teach us the ways, if you will, except for later on in our lives as adults at our own homes, and perhaps when we were trusted to not burn the house down. When it did come time for me to fly the coop, I had to refer to my instincts and think back on what my parents and grandparents used to cook for us when I was a kid. I realized I had more passion in the kitchen than I thought. My brain had been storing up a sense-memory of all of the dishes I loved, and I just started putting things together through trial and error. The problem I had, though, was my "go big or go home" mentality. I didn't want to just make chicken and rice – I wanted a meal. And I had no basic skills – I couldn't just make chicken and rice if I wanted to, I needed the specific instructions in front of me. Believe me, there is so much truth to the saying, "a watched pot never boils." So. Much. Truth.
Because of my interesting skillset, desire for a challenge, and lack of interest in going grocery shopping (can they ever keep the same items in the same aisles for more than a month?!), I found the most perfect solution: meal-kit companies! Not only did these companies provide me with everything that I needed, but they gave me a consistent and manageable cost to fit into my tiny budget. I knew exactly what to expect every week, and I was given step by step instructions on exactly how to make everything. Instructions like, "while water is boiling, slice your vegetables into quarter-inch chunks," were my lifesavers because I was an unexperienced cook and they helped me learn the flow of making a meal. Suddenly I was making meals every night – and I didn't almost hit the mark, I was nailing them. I felt empowered and my tummy was satisfied. I was overwhelmed with a new, confident sense of adulthood.
You might be thinking, "you're rambling, McCullough. This is a gift card blog. Aren't we supposed to be talking about gift cards?" And to that I say, I promise there is a point to this. And hold your horses.
When we signed with Chef'd I was ecstatic. They were one of the companies in this market I hadn't tried yet and I couldn't wait to do so. There was no reason why I hadn't tried them out other than that I was new to this whole subscription-based meal model. But as I was learning more about the company I realized they were a bit different from the other companies I had purchased from, and I mean this in the best way possible. Chef'd isn't a subscription based model. You can choose meal plans if you'd like and re-order them for exact dates of delivery, but you're not required to. You can just go on their site and order a meal for two, for just a bit cheaper than a date night out, and with all the satisfaction of making something in the comfort of your own kitchen. With other companies, you have to purchase a subscription, the kits are only delivered on certain days of the week, AND you can't always pick your menu – sometimes you just get the featured dishes they have for the month. This difference makes Chef'd a perfect match for B2B gifting. There are no gimmicks or sign-ups required. It's just as easy as a restaurant gift card, except you get to do it yourself! And in a market where new and exciting is definitely new and exciting, Chef'd is bound to be a hit.
So there you have it. I am going to blog my way through a Chef'd meal kit to show you all the power of cooking with our newest client. As you read this, a poll is being taken on our Facebook page on which dish I should make. I'm only a little bit nervous about it. I highly suggest sticking around for the next installment of this blogging series because it is sure to be entertaining and informative. Watch SBGC and Chef'd help this cooking-zero turn into a culinary-hero. Not only will it make you want to try Chef'd for yourself, it will strengthen your pitch for adding Chef'd Gift Cards to your programs.