Posted by Stoner Bunting Gift Cards on

February 9th, 2017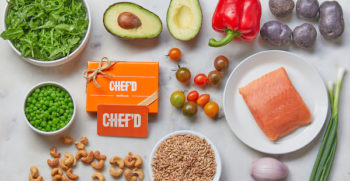 Erin Cooks with Chef'd® – Part 2
At the conclusion of our last blog, The Things We Do For Gift Cards: Erin Cooks with Chef'd, you, the people, voted on the dish to prepare for our special blog series featuring one of our newest B2B gift card clients, Chef'd. The winner? Beef Bourguignon! For those of you not familiar with Chef'd, prepare to be amazed. Chef'd  is the only non-subscription meal kit delivery service that lets you cook simple, pre-planned recipes at home without ever having to step foot in the grocery store. In Part 2 of this blog series, you will join me on an adventure as I cook this classic dinner for 2 for the first time. You'll see pictures of everything from the packaging it arrived in, to the plating. Now, I've openly admitted I am no Emeril in the making, but this was a challenge I was grateful and happy to take on. And in the end, I had a blast from start to finish. I'm sure you're getting hungry already, so let's dive right in!
---
Packaging and Prep
Beef Bourguignon is a classic French dish typically consisting of beef cubes cooked in red wine along with onions, mushrooms, and bacon. Even having taken a semester of French dictation classes in college could not prepare me for the proper pronunciation of Bourguignon – thanks Google Translator! It is a mouthful – and I mean that literally as well as figuratively.
I had the package delivered to the SBGC office. It arrived in a huge, bright orange box. The delivery was fast – only two days! As fun as it is getting packages at work, the fun really began when I opened the box at home. Everything inside the box was sealed in an insulated box, with each item clearly marked. I ordered only the Beef Bourguignon meal for 2, but I got MUCH more than what I paid for!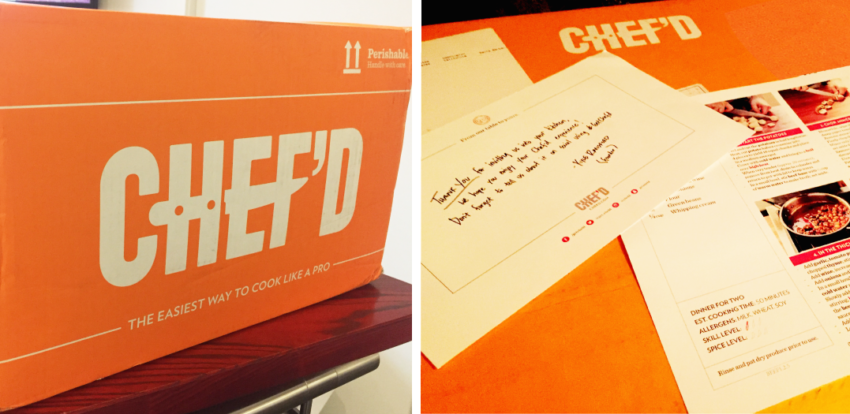 In addition to the meal I ordered, I also received some freebies from two classic brands that Chef'd has partnered with: A breakfast meal-kit from Quaker Oats, AND two adorable glass bottles of Coke Life. The meal itself only cost $29 dollars (plus shipping), but all of the produce and added freebies had to have been at least a $50 value. Already a very satisfied customer! They even included a note from the Chef'd founder thanking me for my purchase – a great touch.
Also included was a recipe card which listed the ingredients along with pictures of each major step. As a visual learner, I appreciated this. The recipe card also included some culinary lingo to educate on part of the prep for this recipe, and, I'm assuming, so I could show off a bit the next time I'm at a party.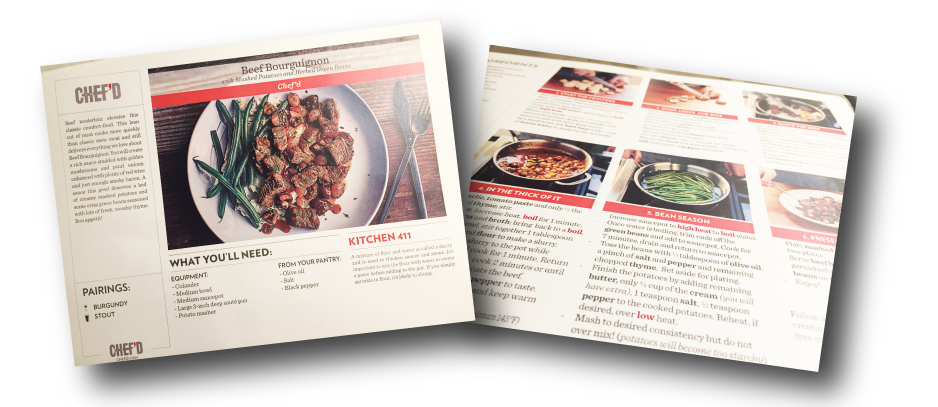 The ingredients were fresh and colorful. It's exactly what you'd want to see when opening a box of groceries. This recipe calls for a few spices, but when Chef'd sends spices, they're not just sending you a teaspoon of thyme in a baggy – you're getting at least a dozen fresh sprigs of thyme.  Just another way to make you feel like a real chef.
Cooking Time
What I loved most about this experience with Chef'd is that they taught me about the "flow" of cooking. Think of something you are really good at – you could probably do it with your eyes closed, or without putting much thought into it. For a beginner, cooking a full meal can seem really complicated, because you have no flow yet. Chef'd breaks up each step of the cooking process into groups of tasks. When one item is cooking, you're chopping up an ingredient and starting on something else. They TEACH you time management in the kitchen. I'd like to note, however, that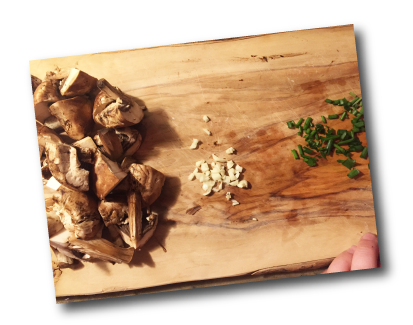 from cooking with several meal-kits as a true beginner, it really helps to have a second person – a sous chef, if you want to be fancy – to keep everything moving in case you get stuck.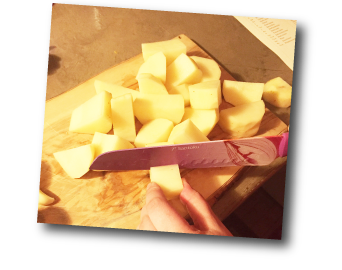 When it got down to the actual cooking, the steps seemed really complicated on paper. In reality, though, it was not complicated at all! This is all because of the way the steps were set up. Once I put my quartered potatoes in the pot to boil, the rest of the steps basically involved me chopping up the produce, meats, and spices, and cooking them altogether in the beef and red wine sauce. The only truly detailed step was adding the slurry to thicken the sauce – slurry is the culinary vocabulary I was given from the card. This was a beginner level meal, so the difficulty wasn't meant to be overwhelming. In fact, it was just challenging enough to be a truly enjoyable experience. And smelling all of those healthy, fresh ingredients in my kitchen was a major plus.

The Moment of Truth
After taking one bite of the dish, my boyfriend (my aforementioned sous-chef) and I almost fell off our chairs. It was DELICIOUS. We couldn't believe the amount of flavor that was packed into this meal. And even more so, we couldn't believe that I made it!  We were also timing the whole thing to see just how long it took my very "green" skills to master this culinary classic. I was only 10 minutes over the detailed 50 minute recipe, likely due to all the photos we took along the way. While this 50 minute meal took only about 10 minutes to eat, it was undeniably worth all of the steps that went into it. I could not be any happier with how the whole experience went, not to mention how easy it was.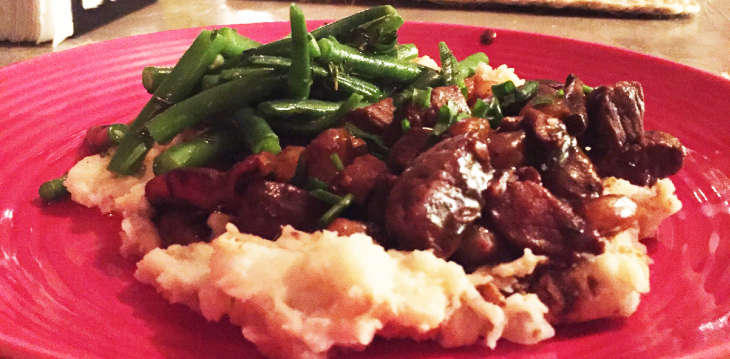 I think it's safe to assume that you're all intrigued and want – NEED – more information on how this all works. Once you've received your gift card, visit the Chef'd website and choose from any of the 300+ amazing recipes on the site. Add your favorite meals to the cart, choose a delivery date, and enter your gift code during checkout. That's it, that's all! No subscriptions and no commitments. A beautiful orange Chef'd box full of fresh ingredients will show up at your front door and you can start cooking. How easy is that? I was also told that out of the 300+ recipes on the site, Beef Bourguignon is easily the most popular dish from Chef'd. So, if you're interested in ordering that meal, you can find those details here.
I strongly urge anyone who is skeptical about the new meal-kit fad to try it out. Not only is it an awesome gifting alternative to a regular restaurant gift card, it's healthier too! So, to Chef'd, I thank you for helping me advance my obviously blossoming culinary career, and I thank you for giving me a moment where I could unplug from the outside world and enjoy my kitchen.
Chef'd is the perfect B2B gifting options for employee gifts, clients, and incentives. It's rare that you find a brand that gives you a real experience that's not only affordable but health conscious and fun.  This will fulfill your grocery, restaurant, and novelty categories as well as help those buyers who are health conscious. It might be the amazing food talking, but, this brand is a winner in every category!
To my fellow B2B gift card partners – what are you waiting for?  It's time to cook up some business with Stoner Bunting Gift Cards and Chef'd.