Posted by Stoner Bunting on

October 2nd, 2017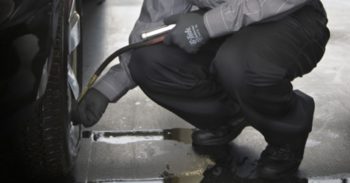 Whether you're driving over the river to your office or through the woods to Grandmother's house, Jiffy Lube® wants your vehicle to be road ready—and Car Care Month is the perfect time to do it.
These preventive maintenance fall car care do's and don'ts will help you stay safe and frustration-free on your travels.
Do swap out wiper blades.
Your wiper blades just spent the last few months baking under the summer sun, which can break down the blades' rubber components. Sometimes the wear and tear is visible, and you'll see the frays, splits, or separations. Other times, the damage is apparent only when they're in use; you'll notice streaking, usually at eye level, if the blades are damaged.
Fresh blades will keep the windshield clear during drizzly autumn weather. After you replace the blades, regularly clean out the well where they sit to keep the area free from leaves and other debris.
Don't neglect your tires.
The arrival of colder temps means it's time to pay extra attention to tires. For example, low tire pressure reduces handling and traction, plus it decreases gas mileage. Since tire pressure tends to drop during cold weather, it's important to regularly check each tire to ensure proper inflation.
And while autumn leaves are stunning on trees, they decrease tire traction once they're littering roadways. One of the most important fall car care tips is to make sure your tires have the proper tread to handle wet, leaf-covered roads.
Other tire maintenance services, like alignment and rotation, will help you stay safer on the roads, as well.
Don't forget about your cabin air filter.
When it's time to turn up the heat on a chilly morning, make sure that air is clean by changing the cabin air filter. Over time, this filter traps dust, pollen, and debris, including leaf particles. It can even trap bugs! A dirty or clogged filter can also impair the heater, making it harder to stay comfortable inside the car. A fresh cabin air filter is better able to remove common fall allergens, like ragweed and leaf mold, too.
Do a health check on your battery.
Once fall hits, freezing weather isn't far behind. Preventive battery maintenance will reduce your risk of getting stranded in your driveway with nothing but your coffee mug and frustration. Make sure your car battery has the juice to handle those cold mornings. Check battery terminals, too, to ensure they're free from the dirt and corrosion that prevents power from being distributed where it's needed, like the engine, headlights, and horn.
You don't need to handle these fall car care tips by yourself.
Let the ASE-certified technicians at Jiffy Lube take the stress out of preventive car maintenance. From changing wiper blades to checking tire pressure, we'll help keep your car running smoothly so you can arrive wherever the road takes you, whether it's a tailgate party or Aunt Mimi's condo.
As you plan your incentive, reward, or fundraising programs this fall, buy bulk Jiffy Lube Gift Cards® and Jiffy Lube eGift Cards℠. They can be set for any denomination between $10 and $300, and discounts for bulk purchases are available.