Posted by Stoner Bunting on

October 16th, 2017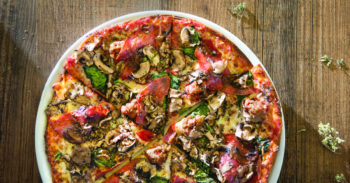 Pepperoni. Sausage. Pineapple. It doesn't matter what you put on your pizza; October is the perfect time to stock your employee rewards and loyalty programs with bulk California Pizza Kitchen gift cards.
Why? Because it's National Pizza Month.
Started in 1984, National Pizza Month celebrates one of our country's favorite foods. In fact, if Americans could eat only one food for the rest of their lives, pizza is the top choice, according to a nationwide survey recently done on behalf of California Pizza Kitchen.
But that's not the only way Americans would declare their love for pizza. Nearly 85 percent of those surveyed said they'd give up something for a year to get free pizza: 33 percent of those individuals would give up coffee, 31 percent bacon, and 31 percent social media.
The first pizza reportedly came out of an Italian oven in 1889. Since then, people all over the world have made this classic recipe their own. The chefs at CPK started putting their unique California spin on pizza in 1985, creating tasty options like Original BBQ Chicken and Spicy Chipotle Chicken. Every dish is made with fresh, high-quality ingredients.
CPK Celebrates National Pizza Month
Naturally, California Pizza Kitchen is celebrating National Pizza Month in a big way. Its famous Shrimp Scampi Pizza is back for a limited time. The casual dining chain is also introducing its newest Lunch Duo option—Piadina Sandwiches, delicious folded pizza-style sandwiches baked in a hearth oven.
Plus, throughout National Pizza Month, fans can participate in the Pizza Memories Sweepstakes. They can share their favorite pizza moments for a chance to win free pizza for a year—now, that sounds like a reason to celebrate! Check out the details.
Stock Loyalty & Employee Rewards Programs the Tasty Way
The chain's menu offers something for virtually everyone, with dishes from pizza and pasta to salads and sandwiches. Bulk California Pizza Kitchen gift cards, available in plastic or eCert, carry no expiration date, so they can be redeemed at any participating CPK location (excluding airport, stadium, university, Mirage Hotel, and Guam locations).
When you're purchasing gift cards for loyalty and employee rewards programs, California Pizza Kitchen bulk gift cards are a delicious addition to your list.