Posted by Kelsey Reynolds on

October 30th, 2017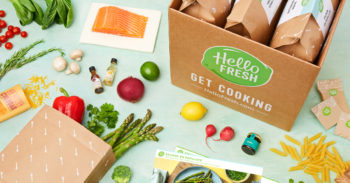 Have you said hello to HelloFresh yet? It's a meal kit subscription service that delivers deliciously simple, chef-curated recipes along with the pre-measured ingredients needed to prepare them, making HelloFresh vouchers fantastic bulk gift ideas. As someone who enjoys wholesome and fresh food, it was a no-brainer for me to test out their meals.
Confession: I'm not the best cook in the world. BUT that doesn't stop me from trying (and a little help from my mom doesn't hurt either). You could say I was a little—okay, VERY—excited for the HelloFresh box to be delivered right to my door. I was determined to make these meals a success.
When my delivery arrived, it included easy-to-follow recipes and super fresh ingredients for three meals, each large enough to serve two people.
The hardest part of meal prep was deciding which recipe to make first—they all looked delicious! It was a tough call, but I finally decided my first HelloFresh meal would be Baby Portobello and Orecchiette Primavera, with broccoli instead of mushrooms.
I'll admit I was a little unsure at first. But once I got into the groove of chopping ingredients, I relaxed and started to enjoy the prep. I began to feel like I could actually do this!
Once the chopping was done, there were only two more steps—both as quick and hassle-free as the first. I put all the ingredients into a pan and then boiled the pasta.
Easy-peasy and whole lot of fun! Dinner was ready in about 30 minutes. How sweet is that?
The result was a masterpiece for me—a balanced, delicious meal. As a bonus, I got three large servings out of the recipe. Finally, leftovers I looked forward to eating!
My HelloFresh dinner was simple, fresh, and convenient—plus, I ended up with leftover seasonings to use in another meal. I'm seriously excited to make the remaining recipes.
If you've never tried a home delivery meal kit service, it's time. HelloFresh makes cooking easy and fun for you, your loved ones, or your employees:
HelloFresh saves time and money.
You don't need to schlepp to the store to buy ingredients (only to find out they're out of that ONE ingredient you really needed). And, because the delivery includes pre-measured, responsibly sourced ingredients, you won't get stuck buying more food than you need, so you waste less and save on the grocery bill.
HelloFresh saves mealtime hassles.
The company delivers easy recipes and fresh ingredients to your door, which eliminates that dreaded, "Oh no, what am I going to make for dinner tonight?" panic. These meals are the perfect solution for anyone crunched for time, from the seasoned chef with a passion for cooking to, in my case, the amateur who can barely chop a veggie.
Let's face it, pretty much everyone can use a service that ships wholesome recipes right to their door. When you need bulk gift ideas for employees, friends, or family members, purchase HelloFresh vouchers. Each gift voucher treats the recipient to one delivery of convenient deliciousness, which includes step-by-step recipes and pre-measured ingredients.
Give the gift of convenience, simplicity, fun, and a whole lot of flavor with HelloFresh gift vouchers from Stoner Bunting Gift Cards! Talk to our team today!